HOME > Outdoors Home > Trip Reports

Pawnee Peak - Indian Peaks Wilderness - October 09, 2005

Quick Details:


Date: October 09, 2005
What: Climb of Pawnee Peak (12,943 feet)
Where: Indian Peaks Wilderness, Colorado
Weather: 30F, cloudy, and snowing, light winds
Distance: 9.6 miles
Elevation gain: 3180'
Technical Difficulty: Grade I, Class 1
Physical Difficulty:4 out of 10
Time: 5hrs 57min 00sec car-to-car
Calories burned: 4090
Map: Click Here for Map

On Saturday, October 08, 2005 Peter Sanders, Josh Turpen, and I decided to climb Pawnee Peak and Shosoni Peak in the Indian Peaks Wilderness the following day. The Indian Peaks are a subset of the Front Range, and lie west of Boulder about 20 miles. Pawnee Peak is 12,943' and Shoshoni is 12,967'. Both sit along the crest of the Continental Divide.

On Sunday morning I awoke at 6am to overcast conditions in Louisville, Colorado. I hopped online and checked out the TundraCam, along Niwot Ridge, to see what the weather was doing up there. While I was looking, Josh called and bailed out, apparently he had come down with something. The weather didn't look good, and the forecasters were predicting big snows, so I was inclined to go back to bed too. I called Peter to see what he wanted to do. Peter wanted to go so I agreed, and drove out to his house in Boulder. I picked him up around 7am in the Subaru and we headed out.

We arrived at the Long Lake Trailhead just after 8am and started packing and getting dressed for the conditions. While we were preparing to hike, it started snowing. This was the first snowfall of the year, and the weather forecasters were predicting a huge storm, with totals of 2-3 feet in the mountains and 1-2 feet along the I-25 corridor! We headed off down the trail, talking about the upcoming ski season, which seemed just around the corner with the current conditoins. Near Long Lake, a Naropa student named Jenny caught up to us, so we hiked and chatted with her until we reached Lake Isabelle.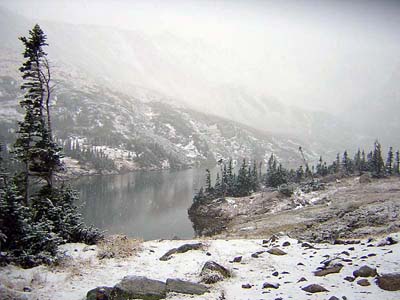 Lake Isabelle
At Lake Isabelle, we parted ways and headed northwest on the Pawnee Pass Trail. By this time it was snowing heavily. The trail to Lake Isabelle only rises about 700' in 2 miles, but the Pawnee Pass trail climbs steadily from Lake Isabelle to Pawnee Pass, gaining about 1750' in just under 2 miles. By the time we reached Pawnee Pass, it was a whiteout blizzard, and there was about 6" of snow on the ground. We decided to not attempt Shoshoni, since the route to the summit isn't as straightforward as Pawnee. Instead, we turned north and started up the south shoulder of Pawnee Peak. This part of the mountain is pretty easy to follow, as the west slops drop off very sharply from the south ridge. We just followed this ridge until we couldn't go up anymore. At the summit, visibility was only a couple dozen yards and it was snowing hard. We grabbed a bite to eat, shot the obligatory summit photos and headed back down.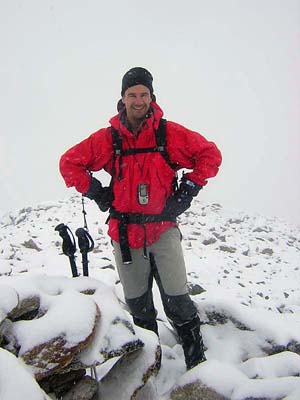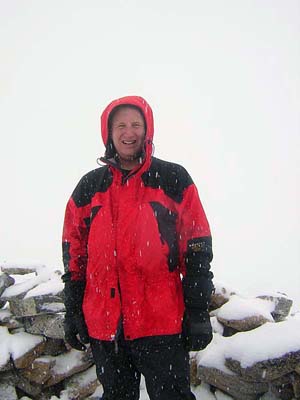 Left: Peter on the summit, Right: Chris on the summit
The descent off of Pawnee Pass was uneventful, but the heavy snow had already mostly covered our tracks from the ascent. The trail was still very easy to follow though. We dropped quickly off the eastern shoulder and grabbed another bite to eat near Lake Isabelle. We passed numerous people enjoying the new snow on the trail to Lake Isabelle, and made good time back to the car. Our car to car time was just under 6 hours so the pace was pretty easy and laid back.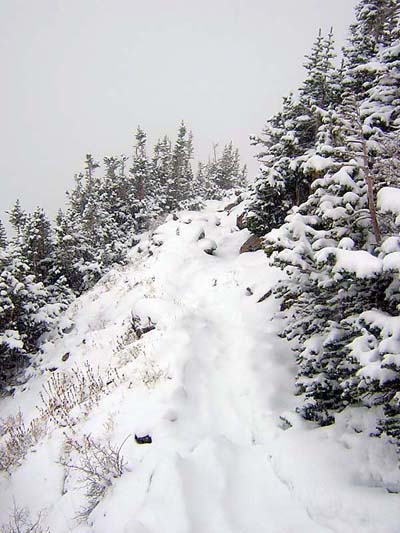 Pawnee Pass Trail covered in fresh snow.
Snowfall totals from the storm varied wildly, but the Indian Peaks and Rocky Mountain National Park wound up getting about 2 feet. Breckenridge Ski Resort reported 30 inches. Some of the suburbs south of Denver got close to a foot of snow. In Louisville, we didn't get a single flake! Hopefully this early storm is a precurser of things to come this ski season!