Nederland to Boulder Trail Run - December 22, 2007

Quick Details:


Date: December 22, 2007
What: Nederland to Boulder Trail Run
Where: Boulder, CO
Weather: Sunny, Very Cold (0-20F), Very Windy (50mph gusts)
Distance: 23 miles
Elevation gain: 2,998' / loss: 5,821'
Technical Difficulty: Class 1
Physical Difficulty (subjective):4 of 10
Time: 5:37:22
Calories burned: 5571
Photo Gallery: Click Here for Photos.

I wanted to do a long run this weekend, my first back after being sick off an on for 4 weeks. I poured over the maps and found a way to run from Boulder to Nederland almost entirely on trails. After a bit of negotiation, we decided it would be better to run downhill, from Ned to Boulder. On Saturday, December 22, 6 of us caught the 7am bus to Nederland and our journey begain. Present were: me, Charles Danforth, Chris Fisher, Stephanie Ehret, Kari Fraser, and Kurt.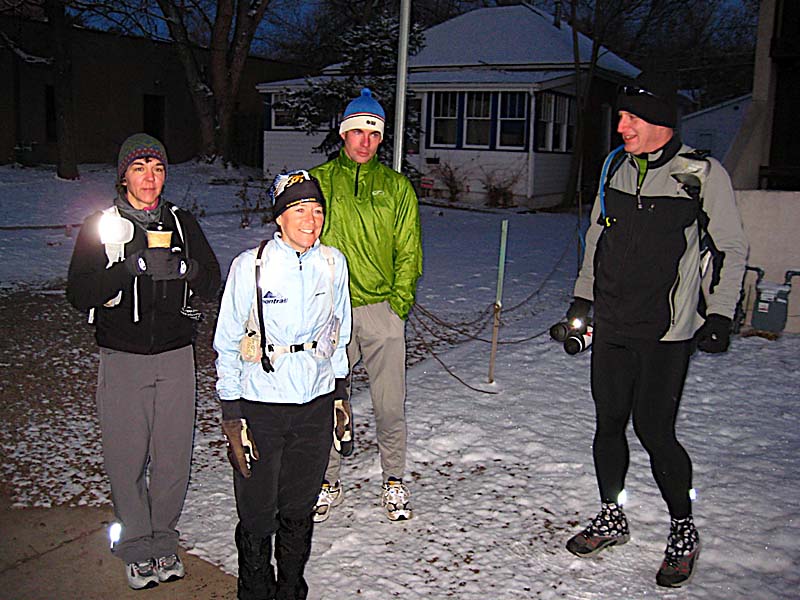 Waiting for the bus in the 10 degree temps! Kari, Steph, Chris F, Chris G
Photo by Charles Danforth
We got off the bus at the Nederland High School and were immediately blasted by 50mph winds and temperatures near zero. Stephanie started developing frostbite on her nose in just the short 1 mile run back to the town of Ned. We decided to wait til sunrise at a coffee shop, then continue when the temps would hopefully be warming up. After an hour there, we left and continued the run, heading southeast through a neighborhood on the south side of Barker Reservoir. Soon we hit the Reboot trail, the first stretch of singletrack of the day. The snow here was very deep and very unconsolidated. By the time we reached the top of the climb and Magnolia Rd, we had revised our plans to stick mostly on the plowed roads.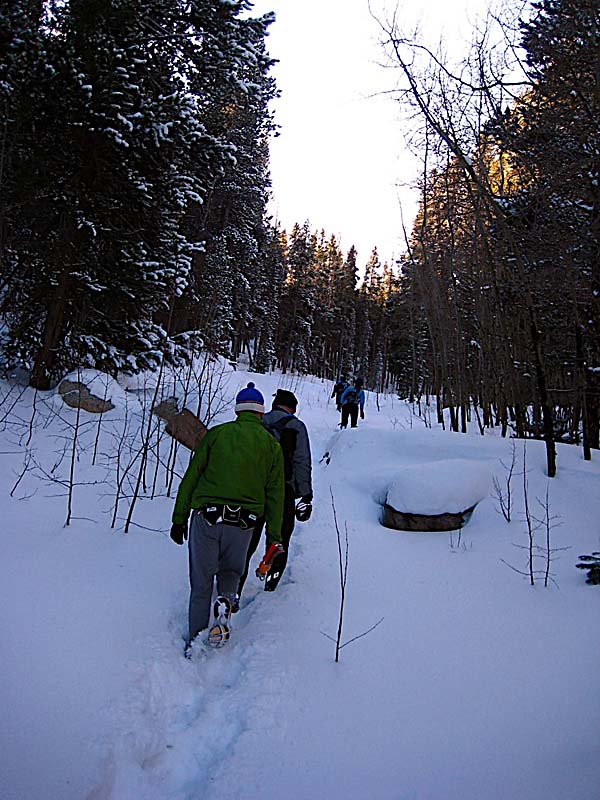 Headed up the deep snow of the first trail.
Photo by Charles Danforth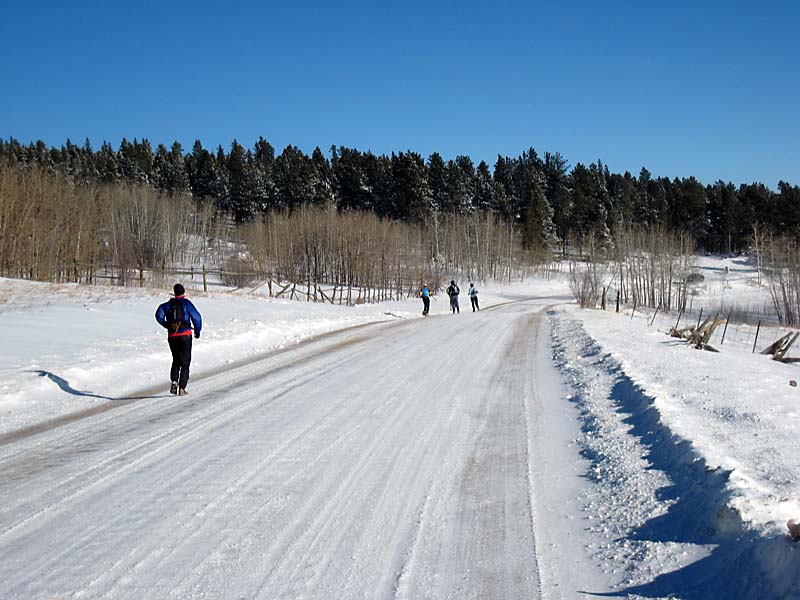 Running along Magnolia Road
The run down Magnolia was windy, but fun and uneventful. We had originally planned to do a short stretch of bushwacking over to the Winiger Ridge trail, then north to Peter Bakwin's parent's cabin near Twin Sister's Peak, where we could warm up and refuel. Since the trails were deep and unbroken, we instead ran Magnolia to County Rd 68 and took that to near their cabin. Co Rd 68 is a really nice stretch of road to run, and it was sheltered from most of the wind.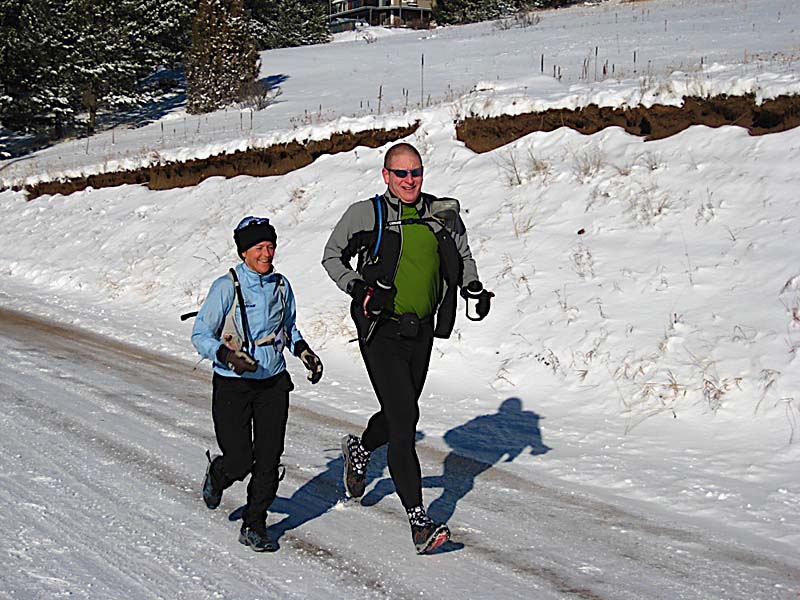 Two Runners: Compare and Contrast
Photo by Charles Danforth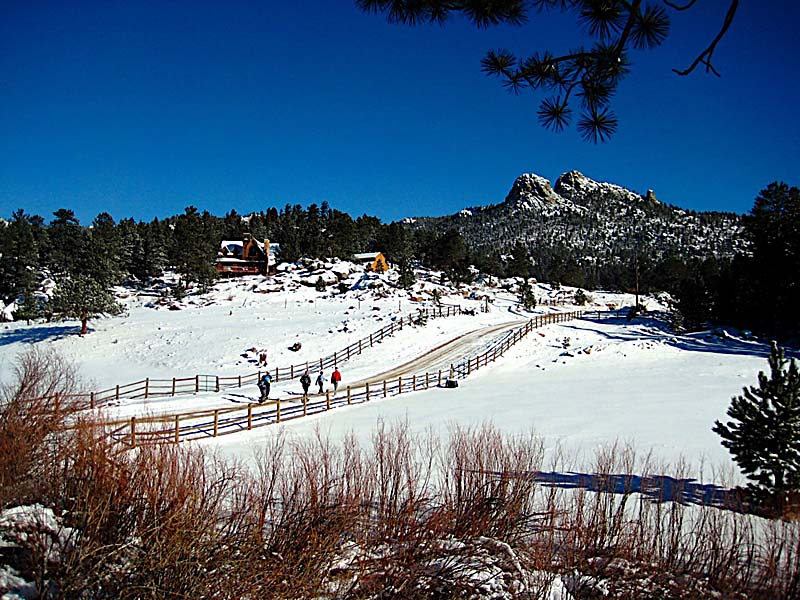 Running along Co Rd 68
Photo by Charles Danforth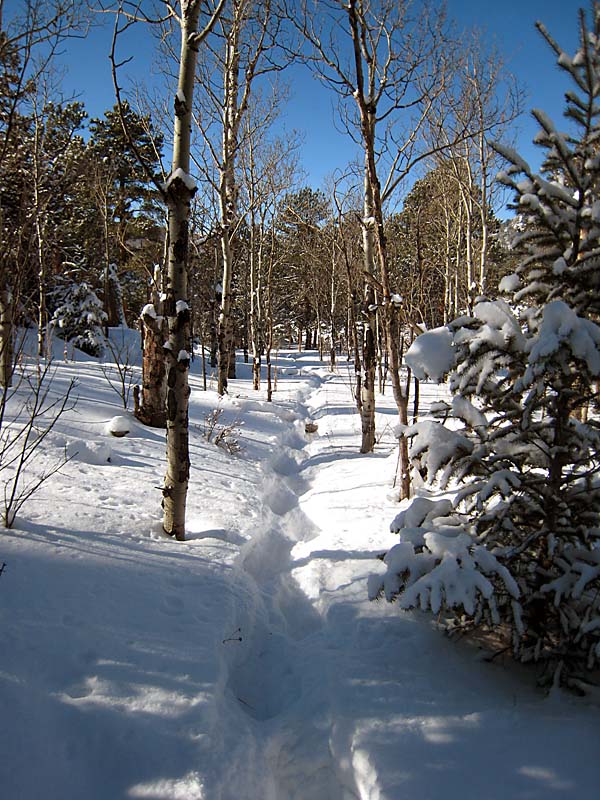 Deep snow!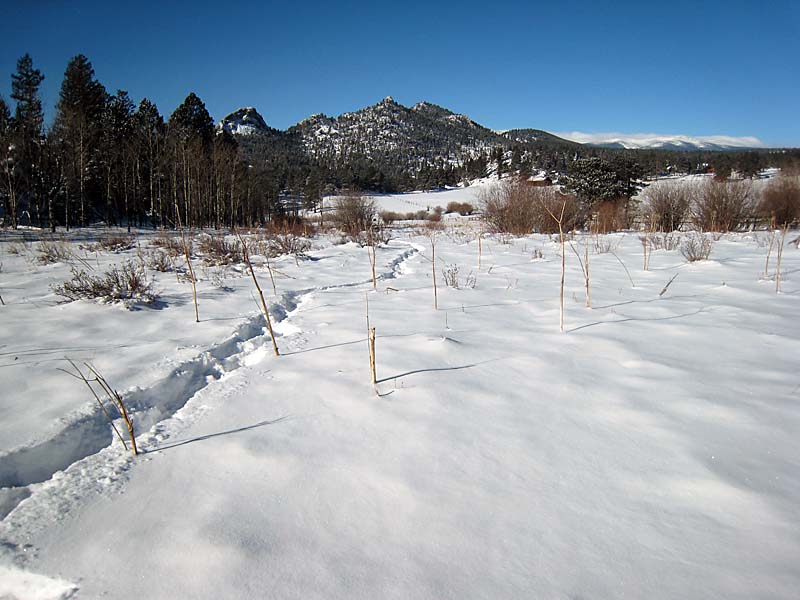 Bushwacking through fresh snow
At the end of the road, we bushwacked cross-country for a while to finally get to the cabin and we were greeted by a sign on the door that said "Welcome Runners!". We took off our wet shoes in front of a roaring fire and then had a great lunch provided by Peter's parents. This was, by far, the best aid station I've ever had on a run!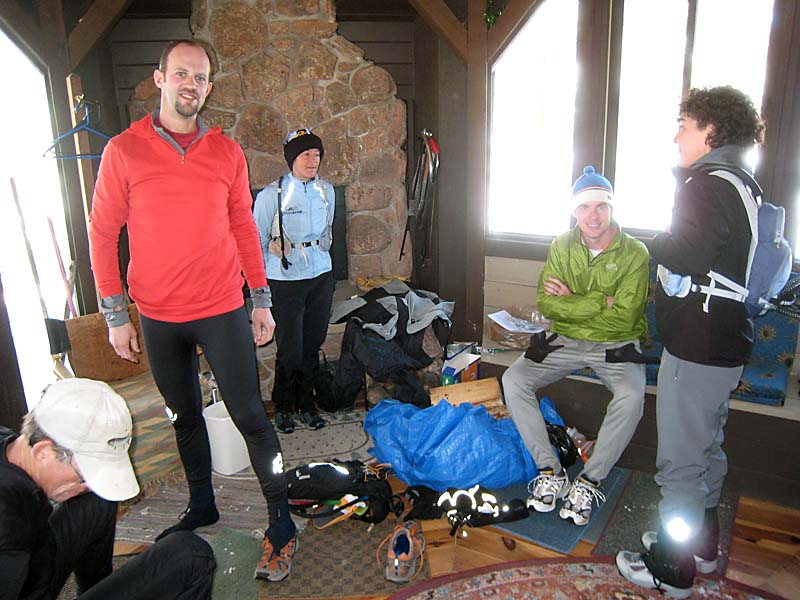 Warming up at the cabin!
After some discussion, we decided to cut out the 5 miles of bushwacking required to summit Twin Sisters Peak. We headed back out and made our way through several miles of fresh untracked powder to Gross Reservoir and Flagstaff Rd. I was running slower than the rest of the group, so I put on my new iPod and ran to some tunes until we reached Walker Ranch.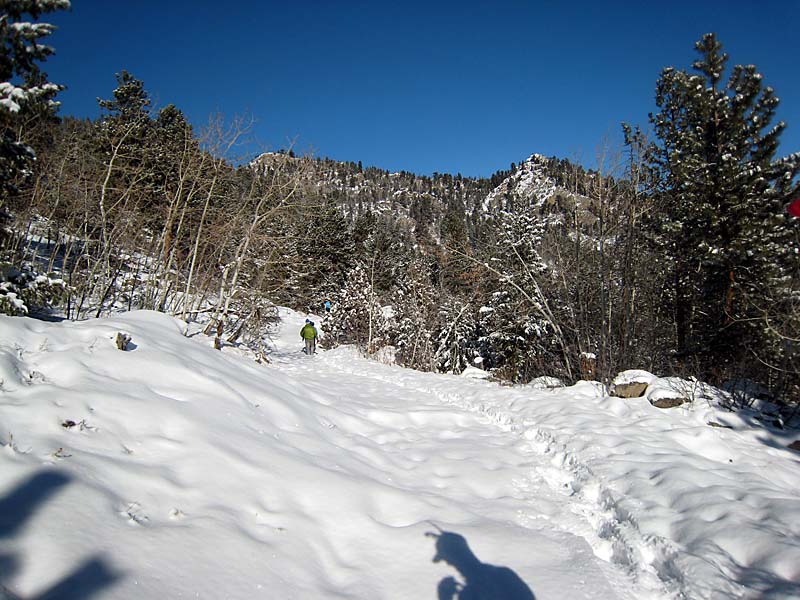 Running along the base of Twin Sisters Peak
At Walker Ranch, Charles and Chris Fisher parted ways with us. Charles had stashed his car at the top of Flagstaff so they could do a shorter run. Chris joined him, as he had to pick his mom up at the airport (he was late). Kurt, Stephanie, Kari, and I headed towards the Walker Trailhead. We ran more untracked powder through Walker, eventually hitting the Eldorado Springs cutoff trail.

Kari, Steph, and Kurt running part of the Walker Ranch Loop
The Eldorado Springs trail was, by far, the toughest part of the day. There was a lot of very deep fresh snow on the trail, and it was all untracked. The winds also started picking up, and by the time we reached Eldo, they were gusting up around 40mph again. At Eldorado Springs, Kari decided to call Frank to get a lift back (we still had about 9 miles of the Mesa Trail and roads to go, to get back to our cars). I decided to join her, so I could get ready for the Cooper's potluck that evening. Kurt and Steph decided to finish the run and they headed out, bound for the Old Mesa Trail.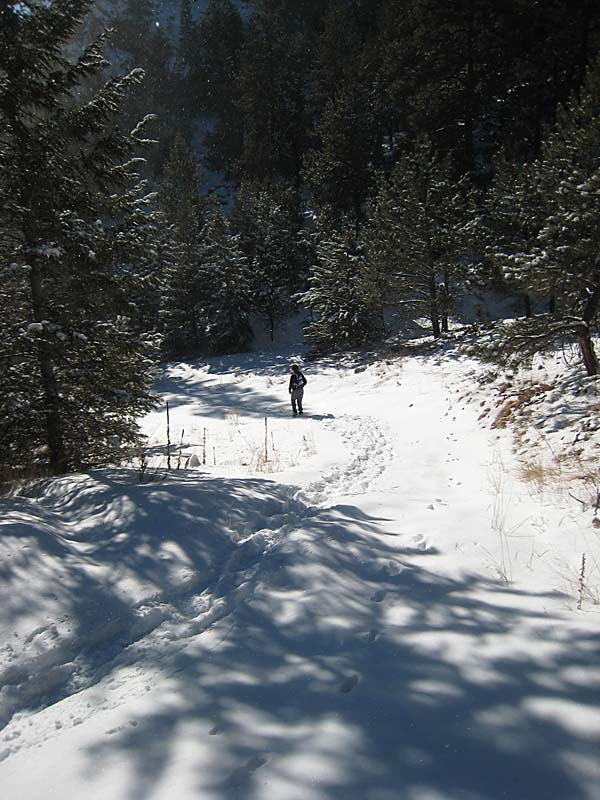 Kari on the Walker Loop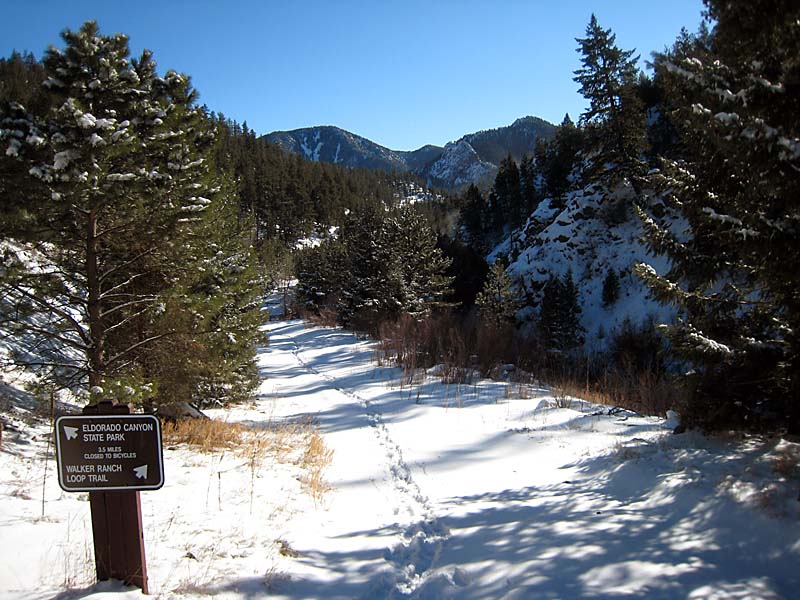 We took the road less travelled

Eldorado Mountain, from the northwest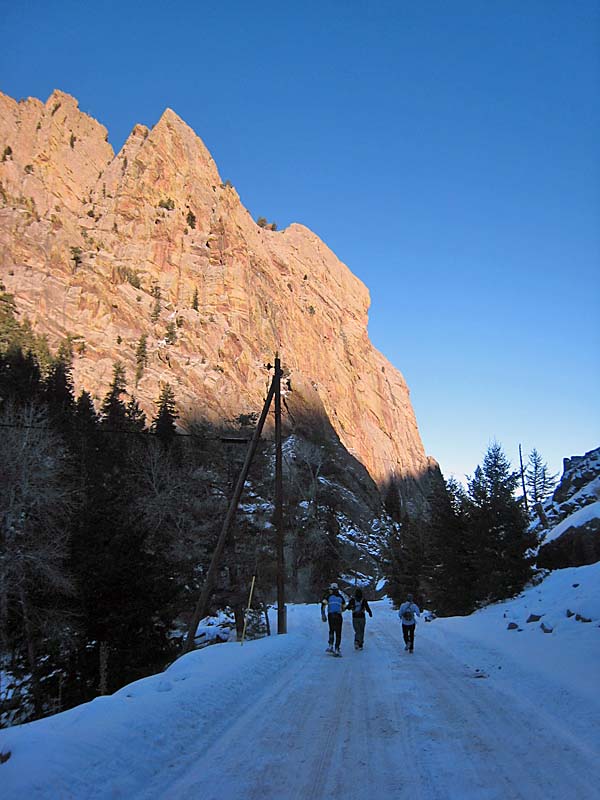 Kurt, Kari, and Steph running through Eldorado Canyon
To keep warm, Kari and I ran out the Eldorado Springs Rd until we saw Frank. We made it almost to Hwy 93 and wound up with exactly 23 miles for the day. I headed home and found Susan and Michael both sick with bad colds again. With that in mind, we decided to skip the party so we wouldn't make everyone else sick.
All in all, it was a great run, but in very tough conditions. I'd love to go back and do this one again in the spring, after the trails melt out.